Balls To Picasso
Release date: 1994 - Ref: EMI CDEM1057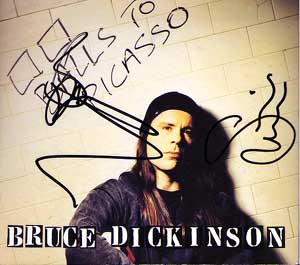 | | | |
| --- | --- | --- |
| Cyclops | Bruce Dickinson, Roy Z | 7:56 |
| Hell No | Bruce Dickinson, Roy Z | 5:11 |
| Gods Of War | Bruce Dickinson, Roy Z | 5:01 |
| 1000 Points Of Light | Bruce Dickinson, Roy Z | 4:24 |
| Laughing In The Hiding Bush | Bruce Dickinson, Roy Z, A. Dickinson | 4:20 |
| Change Of Heart | Bruce Dickinson, Roy Z | 4:57 |
| Shoot All The Clowns | Bruce Dickinson, Roy Z | 4:23 |
| Fire | Bruce Dickinson, Roy Z, Eddie Casillas | 4:27 |
| Sacred Cowboys | Bruce Dickinson, Roy Z | 3:51 |
| Tears Of The Dragon | Bruce Dickinson | 6:20 |
Although the TOG boys recorded this album with Bruce Dickinson, they didn't tour with him to promote it. They were replaced by Alex Dickson (guitar), Chris Dale (bass) and Alessandro Elena (drums), who also worked on Bruce's next album, Skunkworks (1996).
---
Band
Bruce Dickinson : lead vocals
Roy Z : all guitars
Eddie Casillas : bass guitar
Dave Ingraham : drums
Doug Van Booven : percussion

Guests
Mario Aguilar & Dean Ortega : playing & singing on Shoot All The Clowns
Dickie Fliszar : drums on Tears Of The Dragon

Produced & mixed by Shay Baby at Metropolis Studios, Chiswick, London
Additional engineering by Spencer May
Drum tracks recorded at Townhouse 3, Battersea, London. Engineered by Sean de Feo
Bass tracks recorded at Westhouse Studios, London. Engineered by Andy Baker
Shoot All The Clowns recorded at Silvercloud, L.A. and Granny's, Reno. Engineered by Bjorn Thorsud.
Mastered at Masterdisk, New York by Greg Fulginiti and Andy Van Dett.