January 7, 2018
RIP Gregg Analla
| | |
| --- | --- |
| | It is with a very heavy heart that we have to announce the passing of our beloved brother, friend and band mate, Gregg Analla, who died from a motorcycle accident in his home town of Albuquerque on Thursday afternoon. We are all shocked and heartbroken. Gregg, as you know, was a big part of the TRIBE OF GYPSIES for about 5 years starting around 1997 and we remained friends even after he moved back to Albuquerque. In '97, we had a record recorded instrumentally but no singer. Gregg's name had come up previously as a possible vocalist when TOG first started out and this time we decided to track him down in New Mexico. He was intrigued enough by the Tribe to want to try out. He came out to L.A. and we took him into our home base, Joe Floyd's Silver Cloud Studios in Burbank. The first thing Gregg sang on was 'Summer Rain' and we instantly knew he was THE GUY. It was magic - he sounded as if he'd been singing with us for years! No need to look any further. So we completed what became 'Revolucion 13' and followed it up with 'Standing on the Shoulders of Giants', aka 'Tribe of Gypsies III'. The chemistry with Gregg was awesome - the creative juices were really flowing and we had a lot of laughs together. If you heard Gregg's infectious laugh, you'll never forget it. Good times, fun times... "I got more chrome than Tony Iommi".... we laughed so hard at some of the things we came up with! To top things off, we ended up getting a string of U.S. dates with the legendary Santana which was an amazing experience culminating in 2 shows in San Francisco and meeting Carlos backstage who very complimentary. It looked like we were finally on our way. But then we somehow hit a snag when we started working on the next album.... we laid down some tracks but never completed the record with Gregg who wasn¿t feelin' LA anymore and moved back to ABQ to be with his people. Things fizzled, the long distance thing wasn't gonna work, but older and wiser, eventually, we started talking again about doing stuff together. Gregg was stoked, we were stoked. We made tentative plans to do shows in 2018... but now getting the word that Gregg is no longer with us is a crushing blow. Our deepest condolences to Gregg¿s family and friends - fly on to The Great Spirit, brother. We are forever grateful to have crossed paths and for the chance to create some magical moments with you. With love, your brothers in ToG. |
June 28, 2010
RIP Doug Van Booven
To all the Tribe fans out, especially those of you who were with us in the early days - it is with a heavy heart that we must inform you that our original congalero, Doug Van Booven, passed away last night. Dougie played on the first Tribe of Gypsies album and the 'Nothing Lasts Forever' EP (as well as Bruce Dickinson's 'Balls to Picasso') and his passion and spirit was a big part of those records. Our heartfelt condolences go out to Dougie's family and friends and all those who knew him. Rest in peace, brother.
November 3, 2006
Z schedules Sunday workshow in São Paulo; appears on MTV Brazil
A quick note to all the gear and guitar heads in Brazil, particularly those living in the São Paulo area: Don't miss Roy Z's special clinic-meets-show workshow this Sunday, November 5 at Manifesto Bar, Rua Iguatemi N° 36 in São Paulo. The event is scheduled to kick off at 7 p.m. and the price of admission is R$20.00. Visit www.manifestobar.com.br for more info and check out the flyer.
Also, Z will be on MTV Brazil as a featured guest on Massacration's show. They filmed a full on comedy stint featuring Roy which will air Sunday, November at 7p.m., same time as his workshow at Manifesto. TiVo it and attend the workshow!
October 23, 2006
An oldie but goodie!
Very few people have probably ever seen the video to 'We All Bleed Red' but here it is - the first official TRIBE OF GYPSIES video featuring the line-up from the self-titled CD. It was filmed in London, England in the fall of 1993 as the band were in town to record the 'Balls to Picasso' album with Bruce Dickinson. The live footage was shot at the Borderline during what is still the Tribe's one and only UK concert. Enjoy!
October 13, 2006
'Dweller On The Threshold' available now, Z in Brazil!
Everyone!
The domestic version of the 'Dweller On The Threshold' CD is finally out and available. If you're in the US and would like to obtain a copy, please send $15.- (incl. postage) via PayPal to swazziss_at_prodigy.net and include your shipping address. Foreign orders please add 2 dollars extra.
Of course, you can also pick up a copy in person at our next L.A. area show, scheduled for Saturday, November 18 at Paladino's in the Valley; visit www.jimmydproductions.com for more info.
Speaking of which, Roy is currently in Brazil and will be on hand and on stage October 14 at Arena Skol Anhembi in São Paulo at the invitation of good friends Mat Sinner and Ralf Scheepers of Primal Fear who are part of the LiveNLouder Festival. Z will also be doing a handful of guitar clinics and finish mixing the upcoming (Renato) Tribuzy live DVD recorded in November 2005, at the Creditcard Hall in São Paulo.
August 16, 2006
We got merch!
Amigos!
Well, we made it back in one piece from rocking the UDO Music Festival in Osaka and Fuji, Japan (http://udofes.jp/report/23/tribe.html). We had a great time (stay tuned for a more in-depth report and a few photos....) and brought back a few goodies as well. We have a very limited amount of TRIBE OF GYPSIES T-shirts left over from these shows. There are 2 different designs (Aztec calendar w/ logo [front] / logo & festival dates [back] ; small logo on chest [front] / logo, festival dates & 'Dweller' cover [back]) in sizes L and M (see link for details). We are selling them on a first come, first serve basis for $25.00 (incl. free shipping in the US) ea.. Once they're gone that's it so e-mail us at tribeog@yahoo.com if you're interested in getting your hands on one of these shirts.
As for the new CD, 'Dweller On The Threshold' - we will be offering a domestic version (minus the bonus track 'En El Mar') for sale in the coming weeks. For those of you who can't wait - the best place on the Net to order a Japanese copy is CD Japan at http://www.cdjapan.co.jp/detailview.html?KEY=VICP-63528 so give them a try. In the meantime, visit us at http://tribeofgypsies.music.mindviz.com for full-length streaming audio of 3 'Dweller...' tunes - and tell a friend.
July 18, 2006
Update
Hey all!
Just a quick update from the TRIBE OF GYPSIES camp before we head off to Japan to play the UDO Music Festival(s) on July 22 and 23 with Kiss, Alice In Chains, Paul Rodgers, Steve Vai, Sebastian Bach (Z just got done producing his new album, 'Angel Down'....) and others. After 2 days of full band rehearsals and lots of beer, more beer, and pizza we're about as ready as we're gonna be for these shows.
Thanks to everyone that came out to our lil' warm-up gig at Paladino's on Friday - it was great to see so many familiar faces and re-connect with old friends. Special props to our former vocalist, Gregg Analla, who flew in from Albuquerque (without telling us anything!) with his wife and jammed 'Rays of the Sun' with us before officially handing the torch over to new boy, Chas West. Thanks, G, and good luck with Slaviour!
Unfortunately, we were saddled with a few technical problems - shit that worked perfectly for two dats at rehearsal all of a sudden decided not to work at all. Deja vu-doo........ We finally got the party started about a half an hour late and did an abbreviated set of old and new tuneage - 'Mero Mero Mambo', 'Fire Dance', 'Turn Around', 'Ride On', 'Desolate Chile', 'After the Summer', 'Flying Tigers, Crying Dragons', 'Ain't Talkin' 'Bout Love' (yep, a tribalized version of the VH classic.......), and closed with the epic 'We All Bleed Red', always a crowd pleaser.
Speaking of which, our new album, 'Dweller On The Threshold' (out July 20 on JVC/Victor - visit www.myspace.com/tribeofgypsies for a listen!), scored a 86/100 rating in the August issue of Burrn! Magazine and radio is playing several tracks already so we're off to a good start in Japan. The same issue also features a 3-page interview with Roy Z, and JVC kicked down for a full color back cover 'Dweller...' ad. Sweet! Thanks to George, Tak and everyone else at the label who are working hard on our behalf. See you all soon!
June 8, 2006
Roy and Elvis on stage with Uli Jon Roth
Guitar God Uli Jon Roth just played three gigs at the Los Angeles University UCLA Ralph Freud Theater on May 24th, 26th and 27th. Among many other famous guests, Roy and Elvis joined Uli and his band on stage. To the best of my knowledge, here's what they played (corrections/additions welcome) :
May 24th: jam session + Hey Baby (Jimi Hendrix)
May 26th: Hey Baby and Little Wing (Jimi Hendrix)
May 27th : All Along The Watchtower (Jimi Hendrix)
May 24, 2006
TRIBE OF GYPSIES confirmed for UDO Music Festival!
Yep, it's true - the TRIBE will be heading over to Japan come July. We have just been confirmed for the massive UDO Music Festival on July 22 in Osaka at the Izumiotsu Phoenix and July 23 at Fuji Speedway. Needless to say, we are extremely stoked and honored to have been invited. We will be kicking out the jams alongside the likes of Kiss, Alice In Chains, Godsmack, Steve Vai, Sebastian Bach, Porcupine Tree and others. Hell yeah!!! - Check http://udofes.jp/ for more details. We couldn't think of a better way to celebrate the July 20 release of 'Dweller On The Threshold' in Japan.
We've set up a couple of warm-up shows close to home before we head on out to the Land of the Rising Sun. Dates are July 14 at Paladino's in Tarzana, CA and July 15 in Las Vegas, NV (venue tbc). We look forward to seeing you all at one (or both) of those shows. Let's make this a rousing send-off party, ToG-style! In the meantime, sink your teeth into some brand new TRIBE over on www.myspace.com/tribeofgypsies. where we've uploaded 2 tunes from the forthcoming album. Enjoy!
May 21, 2006
New album ! New band !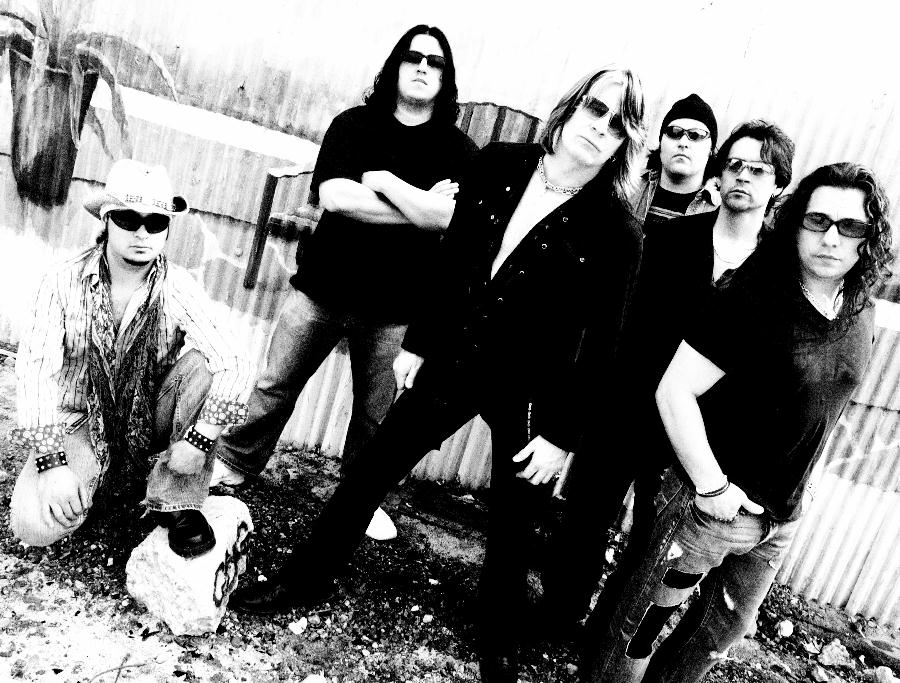 Hey TRIBE fans - the countdown is finally on! We just finished tweaking our new album, titled 'Dweller On The Threshold', a few days ago and are finalizing the last details so we can get rollin' on the release front and get this new music into your hands ASAP. Japan will get a head start on the rest of the world - our label, JVC/Victor, has just set a July 20 release date. 'Dweller......' will contain the following songs:
Big Sky Presence
Ride On
Desolate Chile
Stop Bombing Each Other!
Halos
Zoot Suit Mardi Gras
Go Your Way
After the Summer
Flying Tigers, Crying Dragons
Ain't Talkin' 'Bout Love
Never Will Be Mine
La Hora
Hands to Eternity
En El Mar (Japan bonus track)
Making this album has been a long, hard road for all sorts of reasons but we couldn't be happier with the end result. 'Dweller.....' just might be the best, most well rounded thing we've ever done as a band. In a nutshell - we will rock you, we will soothe you, and we will funk you up but good! Once again legendary L.A. studio gurus Richie Podolor and Bill Cooper lent a helping hand/ear and went the extra mile to make this album a reality. It was a thrill and an honor to be working with them. Thanks, guys! Once the mixes were done, the tapes - or make that files - went to Andy Horn in Germany for mastering and our Danish artist friend Mircea Gabriel Eftemie at cadaverman.com is now in the process of putting all the CD artwork together.
On another note, if some of the faces in the above band shot, courtesy of Annamaria DiSanto, don't look all that familiar to you - there is a good reason: We've got a couple of new TRIBE members 'Dweller.....' will introduce you to, namely our new frontman/vocalist extraordinaire, Chas West, who used to belt it out for the Son of Bonzo, i.e. the Jason Bonham Band, drummer Dave Moreno (yes, that's him on Bruce Dickinson's 'Tyranny of Souls'), and long-time ToG confidant, Christian Byrne, who played the majority of the bass on the album and will switch to guitar live. The rest of the crew is still the same - Z on guitar (....and making his ToG lead vocal debut on a couple of tracks!), Ray Rodriguez on keyboards, Elvis Balladares on percussion, and Juan Perez on bass.
Check back in the coming days as we will be announcing the first TRIBE OF GYPSIES summer live dates, and don't forget to pay us a visit on www.myspace.com/tribeofgypsies.
Peace.