Roy & Gregg in Japan
November 1998
Gregg and Roy visited Japan to promote the new Revolucion 13 album. Here's their schedule and Gregg's comments on the trip.

If you attended any of these events and would like to comment/review/etc, you're very much welcome to do so.

November 25th

17:50-20:00 Arrive in Japan, travel to hotel. Tak Furuichi greeted us.
21:00 Promotional meeting over dinner. Ken Ayugai joined us. Cool guy. Also attending were Seigo Horiuchi, Tak, & Muriko our interperator.

November 26th

12:00-12:30 Lobby call, travel to JVC office.
12:30-13:30 Interview and brief photo session for Player magazine
13:30-15:00 Filmed and taped interview interview with Capt. Wada for his TV and radio shows. We played Summer Rain and Spanish Blue.
15:00-17:00 Lunch, travel to ESP hall (a real nice facility where they do shows and guitar clinics).
17:00-18:30 Sound check, rehearsal.
18:30-19:00 Meeting with Masa Ito (chief editor of BURRN!)
19:30-21:00 Unplugged gig and fan meeting event (MC. Masa Ito). The gig was taped for Masa's radio shows. JVC official photographer shot the gig and the event for BURRN! and Pure Metal mags. Video shooting for MTV Japan, TVK, ESP and JVC's official use.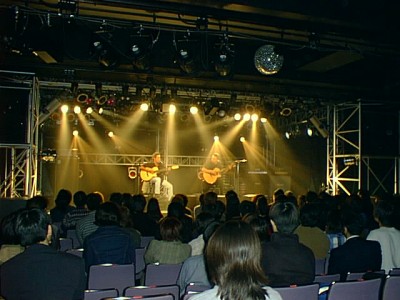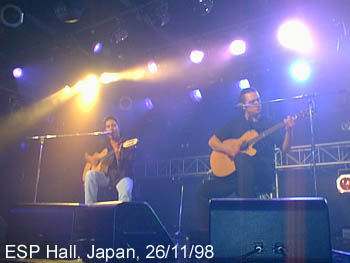 The show turned out great! The fans were on fire! 150 people attended and they had to win invitations in order to get in. They wrote out questions for us to answer. It was definitely a fun show and our best one.
Setlist: Revolucion 13 Spanish Blue, Walking On Water, Collapse, Summer Rain, Nothing Lasts Forever.

21:00 Travel to restaurant, Masa joined us for dinner. Went out with Tak that evening and celebrated. Stumbled around the Ropongi district after many sapporos :)

November 27th

11:30-12:00 Lobby call, travel to JVC office.
12:00-13:00 Interview and brief photo session for Young Guitar.
13:00-14:00 Lunch.
14:00-15:00 Taped interview with Masa for his radio shows.
15:00-15:30 Travel to Hard Rock Cafe Tokyo.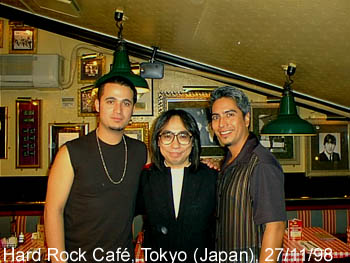 15:30-16:30 Filmed interview with Masa for TVK Sound City. We played a couple of songs.
16:30-18:00 Travel to HMV Yokohama, a huge record store!
18:00-19:00 Unplugged gig and autograph session.
19:00-20:30 Break, travel to restaurant, dinner.

November 28th

10:30-11:00 Travel to J-Wave (Radio station).
11:00-11:40 Live radio appearance on J-Wave R & R Weekend. (DJ Ken Ayugai). We talked and they played a couple of songs of  the new album. Beautiful view of the Tokyo as it was on the top of a 27-story building. We could vaguely see Mt. Fuji off in the distance. Thanks Ken!!!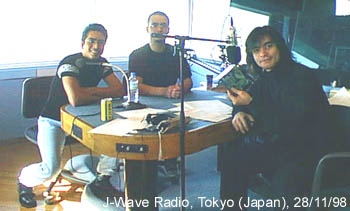 11:40-13:00 Lunch, travel to First Sounds studio.
13:00-14:00 Tape various radio IDs for local radio shows.
14:00-15:00 We taped and unplugged version of Summer Rain for promos to the various other countries that Revolucion 13 is going to be released in. (Thailand, Singapore, Taiwan, Maylaysia, and a couple of other countries I can't remember right now). :)

November 29th

13:00-14:00 Lunch ... A very hungover one for me I might add... :(
15:00-17:00 Check out of hotel, travel to Tokyo Int'l airport.
18:15 Depart for LA. Thanks Ken for taking care of me!!!

November 30th

10:55 Fell of the plane!!! I slept 2 hours over the last 48 hours!

It was a great time!!!  Roy and I thank JVC/Victor, Masa Ito, Capt.Wada, the fans and the country of Japan for letting us play for them.It was an honor to be in your country. Kompai!!!!
Special thanks to "the Dog"