22/10/1998, Scruffy O'Shea's, Marina Del Rey, CA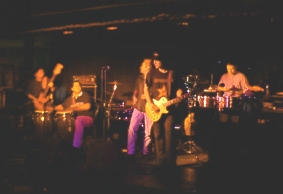 Two days after the Tempest show, the Tribe was on at Scruffy O'Shea's. As the name implies, this is not a Chinese restaurant, but a rather nice Irish pub. A Latino rock band playing in an Irish pub ? Welcome to California, dude :-) We showed up early to get something to eat (and drink!) before the show. Meanwhile, the Tribe did a soundcheck and the P.A. sounded decent enough. By the time the band got on stage, the place was well packed with a mix of early followers, newcomers...and empty beer bottles ;-)
From the very first notes, it was obvious that this gig would rate 10 notches higher than the Tempest show. The sound was so much better! I could even hear the keyboard parts played by Ray (a major improvement over the Tempest show). Gregg outdid himself that night, easily delivering both the mellow and fiery parts.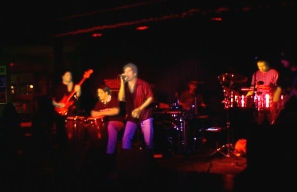 No offense to Dean Ortega, but the way Gregg sings the older material is the way it was meant to be (Metal singers rule!) : Firedance was one of the highlights of the show. And what can I say about the new songs ? Bravo, mon ami! Just make sure you don't forget some of the lyrics next time ;-)
The new guys did great again, especially Juan. 23 years old and as cool as Fonzy ever was. And dude, your solo was impressive. I'll keep an eye on you from now on...
Mario and Elvis mistreated their respective instruments with style and I got kind of used to all their weird moves and rhythms. I might even enjoy them in the near future...just kidding. I used to think that all there was to it is crazy banging, but boy was I wrong ! Hey, if even a stubborn Metalhead like me can open up his mind, there IS hope for the human race afterall ;-)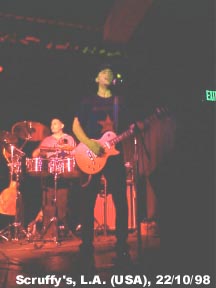 What about Roy ? Well, I've said it a thousand times already and I'll say it again : he's not of this world. Listen to me, not as the official ToG webmaster (hell, if the Tribe ever sucks, I'll be the first to complain!), but as your regular music fan out there : YOU HAVE TO SEE HIM LIVE. If Hendrix rose from the grave and did a world tour, you'd go see him, right? Well, since this is unlikely to happen in the near future (but you never know what those crazy geneticians are working on), go see the Tribe. You'll thank me.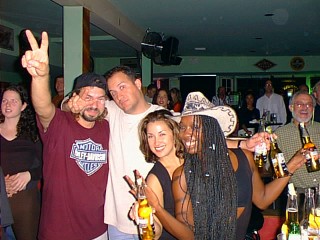 Anyway, the atmosphere in the venue turned red hot before soon. Great music, good beer, nice people : the ideal party ! I can safely declare that every single person in the audience enjoyed the show and had an excellent time. I sure did!
After the show, everyone stayed around for a while to chat with the old friends and the new fans. I got a chance to meet Ray and Jack from Life After Death, Joe Floyd from Warrior (and Roy's engineer) as well as many other nice people. Hi to y'all !
My last word : go see the Tribe NOW. You'll have a great time and meet great people. Isn't this what it's all about ?
Julien