At home with Gregg Analla
31/10/98, Albuquerque (USA)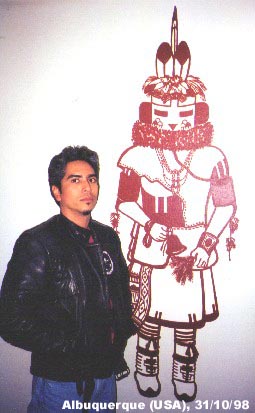 Since you're the new guy, everybody wants to know where you come from and what you've been doing, so tell us a little bit about you first.
I'm from Albuquerque, New Mexico. I've been singing for over 12 years now, and originally I'm from Gallup, New Mexico. It's a small town northwest of New Mexico. I grew up and went to school there and that's where I started singing in high school bands, doing everything from AC/DC to Zeppelin. I did that for years and when I first opened my mouth, I knew that was what I wanted to do with my life. So, we founded some cover bands and decided to move to Albuquerque, because that's where all the clubs were. We wanted to make some cash over here, so we moved and started at it.
I did that for a while then I started recording with bands here around town, writing music, doing original stuff and playing covers as well. Eventually, I got involved in a band called Seventhsign for the last 6-7 years or so. We managed to put out three CDs. A six-song EP, called Blueprint, then a full-length CD, called Perpetual Destiny. After that, we toured a little bit, did some writing and ended up doing another album called Millenium in Japan and Transparent in the States.
What's your musical background ?
My parents got me into music. As a kid, I remember listening to Cream, the Beatles, Iron Butterfly (a big thing that my Dad was into). They were the ones that got me started. They also took me to concerts. My first concert was War. It's kind of ironic that we ended up seeing War this last time when I was in California with Roy. We even ended up playing some shows with their drummer, Sal Rodriguez. It was preety neat for me, because they were one of my early influences and all the sudden I'm playing with these guys!
I did the whole Metal thing, Iron Maiden, Priest, Sabbath. Those are essentials. I ended up leaning against the progressive Metal scene : Queensryche, Fates Warning, etc. I really got into that and that's when I chose to create a kind of progressive Rock area and wanted to put together a band that was progressive but not with so many players. That way, each person gets a chance to stand out without things getting cluttered or anything.
Nowadays, I'm a big fan of Glenn Hughes, Kate Bush, Jane Child, Dream Theater every once in a while... (I give Gregg a really evil look because something is amiss here) BRUCE DICKINSON! Definitely! (OK. That took care of it!). That's got to be in capital letters (laughs). He's always been a major influence in my life and in my music. When we were recording the Seventhsign albums, I used his albums as an inspiration during the course of the four-month recording session. I'd wake up, get in the shower and throw the token Bruce CD, just to get me fired up for the session. Now, it's a plesure to be singing with the band that's working with them, Roy Z and the guys in the Tribe. That's a dream coming true and I'm really happy with it.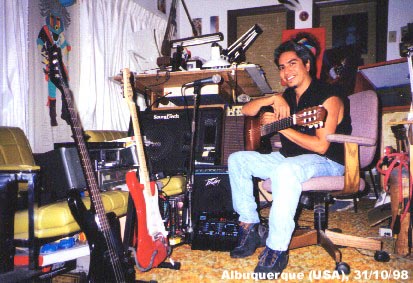 How did you first hook up with Roy ?
Originally, they wanted me to be the first singer in the Tribe. I was playing in a Schrapnel band called 9.0 (pronounced 9-point-O) in Hollywood. Mike Varney was trying to sign Roy, he was a schredder player at that time (he still is!), and tried to hook me up with him. Obviously, they thought I was Spanish because of my last name, Analla (pronounced Anaya). 9.0 ended up breaking up and when they started to look for me, they got in touch with the guitar player and he kind of blew it up : he basically told them that he didn't know where I was... That set things back as for working with them back them.
They later got in touch with Dean Ortega and that was it. In the meantime, I got a call from Rod Smallwood (head honcho at Sanctuary Management, in charge of Iron Maiden, Bruce Dickinson, etc.)during the Dean situation and I didn't talk to Roy again in the interval. The last call I got was from Merck Mercuriadis, the Tribe's manager, about a year ago. He said that they had gotten rid of their singer, that they were trying vocalists all over the world and that I was just one of the ones that they had called. At that time, Seventhsign was going through rocky things and we were kind of on a hiatus. I said sure, let's work together, we'll see what happens. Roy ended up sending some music and I liked it. I thought it was really mature to the stuff I had heard on their previous albums. I was excited to be in the project, although I didn't hear from them for a while.
There's a funny story about the tape!
Roy sent out the music to me and I waited and waited. After about 4-5 months, I figured I didn't get the job. One day, on my answering machine, I get a message saying : "Hey Gregg, this is Roy Z. I was just wondering what you thought about the music." And I went : "What? What music???". I called him back and it turned out that he had sent it to the wrong address. He sent it to 9th Street and I live on 19th Street! He apologized and I laughed. We had a big kick out of it! He sent me another tape, around the time when they had pretty much finished the music. I went into the studio and managed to put some rough tracks on the tape. But things got so close that I never got a chance to send it to the band, so I pretty much showed up without them hearing what I had done! So, we had to get acquainted really quickly (laughs)!
Tell us about the recording of the new album.
Roy sat me down and told me that he had specific ideas. I showed him the tape I had done in Albuquerque and he liked a lot of it. Many of my stuff stayed and after that, we wrote a song a day. It was pretty difficult for me : wake up at 11AM (is that the difficult part???), write till 4 in the afternoon, show Roy the lyrics. He's say : "That's good, that's crap, strike this out...". I'd go away for a couple hours more, revise the lyrices and bring them back and then he'd say "OK!". At that point, I'd put the headphones and start screaming the night away (laughs)!
There was only one song that actually made it out of my head, onto the tape, into the lyrics sheet and onto the final tape without alteration, and that was Collapse. On the rest of the songs, I collaborated with Roy. I worked with Eddie on Mother's Cry and What's up.
Another interesting part was, right after I got off the plane in L.A., we ended up going to A&M Studios where they were mastering a couple of songs off the new Bruce CD. It was phenomenal for me to sit there and get to hear it before anybody else. Then, we got back in the Silver Cloud studio and he was working on a six-song demo. There was a song called Real World that was gonna go on there and the chorus needed a little thickening up, so Roy pulled out some headphones and a mike and said : "Let's get Gregg to sing some background!". I started laughing because I thought it was a joke, but I ended up doing it. This was a major dream come true for me! Quite an experience!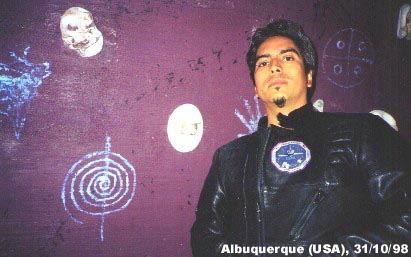 The new CD should be out on November 21st in Japan. And you're going to do some promotion over there.
Yes, we're scheduled from the 23rd to the 28th. We're gonna do interviews and an acoustic set, 6 songs : Collapse, Spanish Blue, Summer Rain, Nothing Lasts Forever, Revolucion 13 and Walking On Water. We went through the songs to transfer them from the album's style to an aoustic style. I'll be singing and playing rhythm guitar, while Roy will be playing all the leads and doing some background vocals. That will be pretty fun!
What happens next? Working on the next EP ?
We're gonna do a bunch of shows in L.A. before we go to Japan. When we come back, we'll probably record the EP. That's just a tentative shcedule.
Let's talk about your lyrics. There's some pretty deep stuff.
A lot of the lyrics stem from my personal life. I had to really dig deep because I didn't know these guys or where their hearts were at. I had to go in pretty blind. I had my own lyrics but when we started recording, we found new meanings to the songs. Take for instance Mother's Cry. I was actually writing from a Seventhsign theme, but it can also be seen as a cry for Mother Earth. Eddie was talking about how the human being is tearing the planet apart without putting anything back into it, like a being without a soul. Me being a native American, it was really easy to get into the song because that's what we are taught in our religion and culture. That song hit pretty close to home for me.
Collapse : Roy told me that sometimes in life, things get so heavy and so insane sometimes that you have to take a step back, let it all go and start picking up the pieces. A friend of mine had recently lost his mother and he was going through really really hard times with that. I kind of wanted it to be a song that could help him and other people through that. I haven't gone through it yet but I imagine that it's the worst thing that can happen in anybody's life and that it takes years to get over. I did these lyrics to help my bro' through this. I've gotten a lot of feedback from different people who lost loved ones and they said that the song really hit home.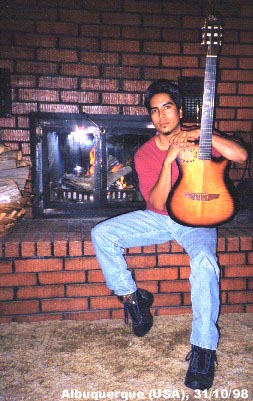 What's up? : we wanted to be an introduction to the old Tribe fans, saying "We're still here, we still got that same party vibe but we'll hit you a little bit harder this time".
Summer Rain : it gets so hot in L.A. sometimes that people get really irritated. There's highway shootings, fighting and all that stuff. We wanted to take everybody away from that and let them get into the happiness that takes place when rain falls down. It cools everybody down. That's the vibe we wanted for that one.
Landslide : it's another idea from Roy. They had all gotten together when the floods were happening in California, people losing their house and stuff like that. The idea was that all these people had been using drug money or pornography money to build all these little kingdoms, and all the sudden it comes crashing down because of God or some other entity...
Spanish Blue : it's taken from the cover of the first Tribe album. I looked at it and saw the sacrifice of the virgin maiden. Aztecs used to do sacrifices to the Sun God and to other Gods in order to make their life more plentiful and easier. I put my mind in the head of two little kids, one girl and one boy that grew up together, The girl was sheltered from the rest of the tribe because she was chosen when she was born, to be sacrificed. The boy has been watching her from afar, and he has fallen in love with her, He knows that nothing will come of it because she'll be sacrificed.
Actually, you're not only a singer. You also paint and sculpt.
Yes, that's what I do. I carve jewelry. I design earrings, pendants and stuff like that. I've done some painting also, doing mostly native American artwork. Now, I've gotten into sculpture. There's one piece I'm gonna cast in bronze and do a limited edition of. I took you to Santa Fe today and showed you some of the galleries that were interested in my stuff. I wish I could have a little bit more time to work on the art, because that's a piece of my heart and soul. But music is my first and foremost passion. It's my life! I tried to stop before and I was a miserable guy (laughs)! My friends were not really appreciative with that, so I had to get back in the music so that I could keep my sanity, I guess (laughs)!
Okay! Any message for the Tribe fans around the world?
I just wanted them to know that we're trying our hardest. Everything is falling together really well. A lot of the song ideas that Roy has are simply amazing. He's an incredible individual when it comes to songwriting and it looks like we found a team that I can foresee as riding into the future and getting better. There's a lot of directions we could go with the music. Roy's got a ton of different ideas and I'm happy to be involved in the project. It's a great bunch of guys, great musicians and I'm looking forward to do some touring as well and to do more albums. I don't see nothing but progression from here. If you're a fan of the Revolucion album, I don't think you're gonna be disappointed with anything that comes out. The fans are really important to all of us and we can't wait to go into the future and ring in the year 2000 (laughs)!
Thank you !
Julien